Local 2016 St. Patrick's Day Events
State-wide there are lots of local celebrations of a green persuasion, chose your region below to see what's happening for your St. Patrick's Day on Tuesday March 17 or the surrounding weekends.
Northern AZ 
Greater Phoenix Area 
Southern AZ 
---
Northern AZ:
Sedona St. Patrick's Parade & Festival Join Sedona Main Street Programs for their 46th Annual Sedona St. Patrick's Parade & Festival on Saturday March 12th starting at 10am. Done your green and see the parade go through Main Street, Sedona and partake in free children's and family activities, food vendors, and music. This is a free, community event and full information is here.
St Patrick's Day Dinner at Tonto Bar and Grill Enjoy hearty goods served from 4 – 9 pm on March 17th with Corned Beef Brisket and Cabbage and Chocolate Truffle Pistachio Torte. Full information here.
And don't forget your local breweries for drinks and events:
---
Greater Phoenix:
Annual St Patrick's Day Parade and Irish Faire This Year's Theme is "Celebrating 32 Years of Parades and 32 Counties of Ireland"! Hosted by the Irish Cultural Center, the parade is on March 12th at 10 am. Location for the parade down 3rd Street from Sheridan south to Moreland. The faire is also on Match 12th at 10 am at Hance Park at and around the Irish Cultural Center. Complete info is here!
 St. Patrick's Day at the Irish Cultural Center On March 17th, come celebrate this most Irish-of-days on the campus of our Irish Cultural Center and McClelland Library! Enter to win a trip to Ireland in their raffle and learn more about the history of Ireland and the Irish people. Visit their website at www.azirish.org.
Chompie's St. Patrick's Day Specials
Chompie's (at all locations) will celebrate St. Paddy's Day with an All-You-Can-Eat Corned Beef Feast. The special meal is served from 11 a.m.–close on March 17th for just $21.99 per person. Find complete information at www.chompies.com.
Phoenix Readers' Theater: Irish Stories and Poems Visit Changing Hands bookstore in Phoenix on Camelback and Central on March 17th for Arizona Readers Theater celebrating St. Patrick's Day with a reading of Brian Friel's play, Molly Sweeney. This reading is at 7pm. More information online here.
Psst... and don't forget your local breweries for drinks and events:
---
Southern AZ:
St. Patrick's Three Day Weekend Buildup  Hotel Congress is celebrating St. Patrick's Day on March 17th with a special menu at The Cup Cafe, Optimist Club dance party, and our annual Great Guinness toast! Of course we have you covered with $4 drink specials on Jameson, Powers, Guinness, and Harp. $3 cover or FREE with green clothing. More information by clicking here!
Tucson St. Patrick's Day Parade Sunday, March 13, downtown Tucson will come alive with Celtic tradition as the 29th Annual St. Patrick's Day Parade & Festival brings the Irish spirit to Tucson! The one hour Parade will begin at 10:00 A.M. View the map online here: more information.
Paddy's Irish Pub Menu at Pastiche Pastiche brings back their annual Irish pub menu for Tuesday March 14th with potato soup, wild boar sausage, oatmeal coated trout,guinness stout cake, and Guinness on tap. View full menu here.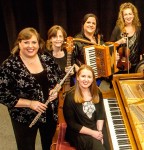 Cherish the Ladies at Fox Theater Cherish the Ladies is an all woman quintet that began performing over 30 years ago, and has out over 10 studio CDs. Led by flute and whistle player Joanie Madden, the band features fiddle, accordion, other strings, keyboards and vocals from one of the Celtic world's finest singers--a full show of Irish music, song and dance. Happening March 18th, more info here.
Green Eggs & Ham at Ghini's Come and try some wholesome Green Eggs & Ham (fresh basil infused eggs and ham) this St. Patrick's Day for a delicious Breakfast treat at Ghini's in Tucson.
And don't forget your local breweries for drinks and events: